So solely with the intention of being honest, open and upfront about the groups I have created and admin, I decided to make use of the "ask questions" option for when people request to join any of my groups.
The sole reason I want to be honest, open and upfront about which groups I admin, is because I know that many people only have one side of the story, they have only heard one version of events and as such they have heard everything and are willing to sit in judgement. My being open about my groups, gives them the ability to make an informed choice about whether they wish to join a group created and adminned by me, it also gives both them and mself the ability to see if them joining any of my groups is right for them and in the interest of my personal health.
With that in mind, if you are willing to take the words of others and then cast judgement, if you are willing to still want nothing more than trouble & bile or believe others that spew it, then I really don;t think you should waste your time attempting to join any of my groups.
I know that I am facebooks equivalent of Marmite, but as I have made clear for me what is past is past, for the sake of my own personal health I have decided it is ALL finished with, I can't and don't expect others to reciprocate, the past has shown me that that is beyond the expectations of most locals.
So Join if you want to.
If you don't want to then DON'T.
If you can't be arse to answet the 3 simple YES/NO questions, then fine. You will be refused.
It is up to what games you play. But I have made the choice, that I am NOT playing, life really is to short. My simple message to those who still want to cause hassle... GROW UP!
Best Wishes to one & all.,
Garry
Newbury & West Berkshire From Above!
https://www.facebook.com/groups/NewburyandWestBerkshireFromAbove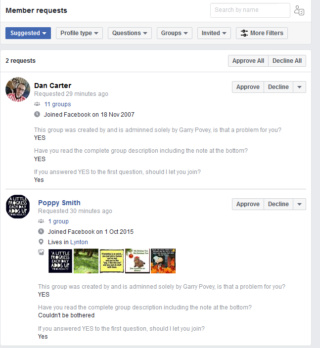 ---
Permissions in this forum:
You
cannot
reply to topics in this forum